Mavic's Crossmax Enduro range includes one of the better shoes we have had the pleasure to ride in a while. Simply named, the Crossmax shoe was reportedly co-developed as a racing-specific option by the likes of Jerome Clementz and Fabien Barel. The materials and construction are tougher than most offerings in this range, which lends much credibility to that claim. The lugged soles are made from sticky Contagrip rubber and molded into a pattern that facilitates quick pedal entries. A pronounced rocker aids walking or scrambling up unridable trail sections, and two retention strategies ensure than the shoe fits snugly without hot spots. Both the heels and toe areas are reinforced, which is a must for high-speed runs on technical and rocky terrain. Mesh inserts help the foot to stay cool and give water a quick exit, while a wider toe area and a dual-density insole assure that all-day rides will end on a better note. Mavic offers the Crossmax in a full size compliment and in the flashy yellow team colorway of our test pair, or a much more subdued black version. Weight is listed at 460 grams per shoe (size 42), and the MSRP is $189 USD.
Details:
• Purpose: AM/trail and enduro racing
• Uppers: Synthetic leather with breathable 3D mesh panels
• Reinforced heel cup and toe
• One-pull Quick Lace system for a precise-fitting instep.
• Ergo Ratchet buckle with flip-up release lever
• Tacky Contagrip® lugged sole with flexible nylon stiffener
• Ergo 3D mesh overlapping tongue
• Black or Mavic Crossmax yellow colorways
• Anti-microbial, dual-density OrthoLite® foam inserts
• Weight: 980 grams (pair, size 42, weighed with cleats)
• MSRP: $189 USD
• Contact: Mavic Crossmax
Construction:
Where many shoe makers are switching to welded or glued seams, Mavic's Crossmax is stitched together, which should give it a long and happy life. The uppers are almost entirely made from padded 3D mesh, which is reinforced in key areas by an exoskeleton of vinyl-coated synthetic leather at the mid-sole, and by molded-rubber heel and toe cups at either end.
Inside the shoe, the tongue is generously padded 3D mesh. Fixed laces allow the wearer to fine tune the fit of the shoe's instep. The laces are secured by a clever plastic buckle that releases when pulled and otherwise, remains secure. A hook-and-loop flap protects the laces from mud and abrasion. Like most pro-level racing shoes, Mavic uses a ratcheting buckle to prevent the foot from squirming around inside the shoe. The Ergo Ratchet's small flip-up tab releases the buckle. Unlike many road and XC racing shoes, however, the Crossmax system has no single-click release feature for on-the-fly comfort tuning. But, in Mavic's defense, few enduro racers will be taking their hands off the bar to make shoe adjustments during their race runs. The feature may not be necessary anyway, because Mavic added a generous amount of room in the toe box, which initially feels as if the shoe is too large, especially for riders who are accustomed to ballerina-tight XC and road racing footwear. The end result is a shoe that remains comfortable for hours on end – which is exactly what an enduro racer needs.
The Crossmax's lugged sole makes it a clip-in-only shoe. The "Contagrip" rubber compound grips well on wet and dry surfaces, and a clever design allows the lugs to be aggressive enough to make short work of sketchy hike-a-bikes, while preventing the pedal from hanging up when the pressure is on to get the cleat engaged. Should the rider need to get in a few pedal strokes without clipping in, special grippers are placed strategically in the arch of the sole to prevent slipping.
Ride Impressions
Testing shoes is a dread because most require a lengthy break-in period before one can truthfully determine if the fit was wrong from the start, or if the materials simply needed to settle into the shape of the test rider's feet – and then there is the hassle of dialing in the correct cleat position. Fortunately, neither issues reared their ugly heads. Mavic managed to deliver on the comfort from the start. Firm, wrap-around heel cups keep your feet in line with the pedal circle, while generous padding spreads the compression generated by the lacing system and ratcheting buckle over most of the foot to prevent hot spots.
Crossmax shoes have a mid-ankle elastic neoprene wrap-around that helps to prevent small stones from working their way into the shoe. It proved to be more effective than most shoes in the enduro category – but less effective than some ankle-high shoes we have used. The additional comfort created by the Crossmax's slightly lower design, however, may be well worth a little dirt in the socks.
Those who like the balls of their feet well ahead of the pedal spindle to emulate the classic flat-pedal foot position will find that there is not enough fore/aft adjustment range in the Crossmax's cleat tracks to make that happen. I put the cleat position in the middle for a beta test and, immediately after my first technical descent, moved them back one centimeter. With the cleats slid back as far as they can go, Mavic's shoes should be able to make all but the staunchest DH riders happy, but it is a worthy concern.
Crossmax shoes are not lightweight (at least in the cross-country sense), and there are some flat-soled shoes which weigh slightly less. They pedal very well though, and there is just enough flexibility in the soles to give the feeling that the rider's feet are part of the pedals, and not perched on top of them like a super stiff XC shoe can feel. The snug fitting instep, combined with the roomy toe box adds a slight amount of lateral freedom to the foot that was beneficial when negotiating tricky rock and rooted sections – and it seemed to help smooth out the pedal circle while the bike was bouncing over trail chatter. The overall effect of Mavic's enduro-specific design is that their shoes provide ample support to allow high-watt pedalers to climb and accelerate efficiently, with much less tension in their feet and ankles – and they are pretty OK for skulking about the woods on foot.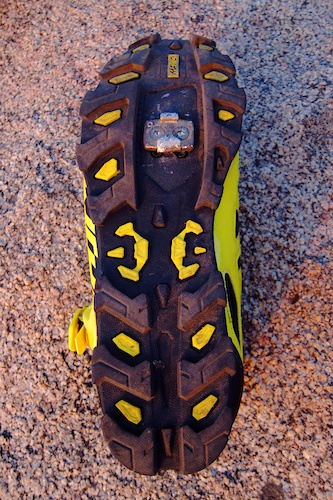 Source: pinkbike.com